We at Belgrave St Peter's Primary School would like to help others as we think about Christmas time. Through discussions some children wanted to support and start to break down the barriers and misconceptions around homelessness.
Across the UK, there are a large number of charities working at a local and national level to fight homelessness. These charities provide help and advice for people who are rough sleeping.
So the group 'Belgrave Student Charity Committee' have chosen to donate to homeless charities, but we really need your help too!
If you would like to donate, these are some items which would really help…
Bottled water
Toilet Rolls
Small bottles of toiletries (shower gels, soaps, deodorants, wash clothes, toothbrushes & toothpaste)
First aid items
Sanitary pads and tampons
Nappies
Socks and underwear
Sturdy bags
Hats & Gloves
Blankets
Tin food
These will be donated across Leicester to help those in need this Christmas.
Please if you are able to help please send donations in to school by Friday 14th December 2018.
Crafty Christmas event is open to all Nursery, Reception and Year 1 parents/carers.
Thursday mornings 9-11am working in the library making Christmas items!
These sessions are FREE and will be held over 3 weeks, starting Thursday November 22nd .
Book your place and be ready for Christmas!
We look forward to seeing you.
Thank you to all those that attended our 123 Magic short session about positive behaviour strategies.
123 Magic course has been developed especially for children and young people with challenging behaviour. It uses simple, practical ideas which you'll be guided through step-by-step by Ian Hall, who has been working as an ADHD Specialist Coach in Leicester for the last 13 years.
We hope you gain some insight in how to deal with negative behaviour!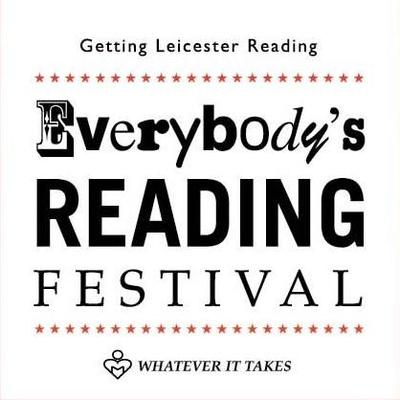 We celebrated this event today at Belgrave St. Peter's with an amazing turn out of over 40 parents/carers, with children in EYFS & KS1
Thank you for supporting your child's reading!
Good news our Sustrans School Cycling Officer Anna Singleton and her team, are to work with all year groups from Tuesday 6th March starting with Nursery and Reception classes.
Wednesday will be with Year 1 & 2
These sessions will be held in school time in the playground!
Years 3, 4, 5 & 6 are being invited to a Bike Breakfast
BUT children must cycle or scoot to school.
This will be in the hall from 8.15am
Children in year 3, 4, 5 & 6 if they bring their bikes can take part in a bike ride!
(need to bring own bike and helmet)
Please sign and return letters as soon as possible to avoid disappointment!!
Parents if you would like to get involved please speak with Michelle
Spots and Odd Socks
On 17th November children and staff were asked to wear Spots and Odd Socks in support of Children in Need and Anti Bullying week.
PGL Boreatton Park: Some lucky Year 5 and Year 6 children have just returned from our exciting trip to PGL. We spent a marvellous two nights and three days doing a range of activities: rifle shooting, giant swing, raft building, vertical climbing, quad biking, fencing, zip line, singing around a camp fire and dancing our feet off at the disco. The children worked together as teams, made new friends and ate loads of delicious food! We all had a great time and didn't want to come home!
Belgrave St. Peter's World Food Day!!
Our community came together to celebrate our diversity, and taste foods from around the world.
It was a very successful day and we would like to 'Thank' all parents, staff who donated food for tasting!
THANK YOU!
Some children made Salsa dip!
Cheeses from around the world
Welsh cakes
Polish Apple pie!
Families tasting some wonderful food from around the globe...
Plantain
Dhokla
Samosa
Bun & cheese
Salsa dip
Chapati
and much more...
Thanks to all for a great event!!
Some feedback:
"Mmmm tasty, delicious, amazing, Yummy!"
We have been celebrating Bike Week, and very proud of all the children who have taken part.
Today was Bike Breakfast, children enjoyed a healthy breakfast!
Thank you to all!
This afternoon children will be taking part in a sponsored cycle with our
Sustrans Champion Wayne Brewin!
Good Luck!
Well our first week back and all of KS2 children had an amazing morning watching the World Champion BMX star Keelan Phillips.
Our bike monitors were invited to a workshop with Keelan learning safe but difficult tricks!
Even Mrs Dennison gave it go!
We would like to thank Keelan, Wayne and Anna from Sustrans for organising such a fun event!
Welcome back!
Hope you all had an amazing summer break! We are all looking forward to our new academic year together sharing new experiences and opportunities.
Thank you
Our annual Summer Fayre details are now confirmed:
Saturday 9th July 2016 11am-2pm
This will be a fantastic day please support the pupils who are working hard to make this event special!
If you would like to hold a store please speak to staff at the office to complete booking form.
If you have any donations please send to the office.
Thanks
Summer Fayre
We are to hold our annual Summer Fayre, Saturday 9th July 2016.
We are finalising the details and information will be sent out shortly.
If you would like to have a stall please contact the school for further details.
Queen Elizabeth's 90th Birthday Celebrations
We had a an amazing day celebrating The Queen, her life, her work and her 90th birthday. Pupils and staff enjoyed the day especially our 'street party!'
Children enjoyed the special lunch...
and the fun and games!
At 2.30pm children shared their learning during a special assembly for parents/carers.
Thank you to all the staff for making this such as special day for all!
The Big Pedal
Year 6 have had an amazing day cycling to Bede Park and the Curve to celebrate cycling. All children have completed Bikeability, so children are safer more aware when cycling on the road. Children met some great guests...
It was a great day as they joined 500 other pupils from across the city.
Children had an opportunity to watch BMX World Champion Keelan Phillips!
Thanks to Wayne and Sustrans Team, Bikeability, staff and the local Police for helping us to give the children a special day!
Sustrans (Family Cycle Ride) Tuesday 16th February 2016...
Hope Production.
On Tuesday 26Th April, Year 2-6 participated in an anti-bullying production called Hope. We all watched a performance telling a story of a girl who was being bullied at school.
After the show, Year 3-6 were lucky enough to take part in a workshop with the actors to discuss it. We had to think about the story from the different perspectives of the characters and consider what we would have done in that situation; which characters we liked; which characters we felt sorry for and offer our advice. It was really good fun, very engaging and thought provoking.
D'Miah (Y3): I learned that bullying is not very nice and not very good.
Malik (Y4): I learned that if someone is bullying you, you don't take it out on someone else, you tell someone.
Jaiden (Y5): We learned that it's not okay to bully. She was a bully because her Dad was being nasty to her at home.
Melissa (Y6): I learned that I should tell someone if I am being bullied.
Winter Wonderland, Hyde Park, London was a great success! Thanks to all the families who came along and enjoyed the fun!
Film Club children enjoyed their visit to Vue Cinema, where they watched 'Annie'. As part of a follow up all children completed a review online with 'Into Film', part of a Channel 4 project.
We are to celebrate Harvest Festival, and a service is to be delivered where you are invited to attend! The

Rev. Simon Stevens will be delivering two services this day EYFS & KS1 at 9am and KS2 at 2pm.
This will form the conclusion of this half-term work of the Christian value 'Thankfulness'.
If you are able to donate any dried foods or tins for this event please bring them in on Thursday 15th October, we would really appreciate your support at this important time as 'Harvest Festival reminds Christians of all the good things God gives them. This makes them want to share with others who are not so fortunate'.
The items received are to be donated to local 'Food Banks' and the 'Migrant Crisis'.
We appreciate all your support.
What a week! Children from nursery to year 6 brought their bikes in to school all week and enjoyed our Healthy Bike Breakfast!
Children also participated in a 'Sponsored Cycle' for 30 minutes on the school field, Well Done to all who took part and raised £60!
BIKE WEEK OCTOBER 5th-9th 2015
Wayne Brewin our 'Bike It Champion' has been involved with Belgrave St. Peter's since last year, offering bike skills sessions to all children. This has installed confidence in our pupils who have in turn gained some personal achievements.
To continue this great work we are to offer a Bike Week October 5th - 9th, whereby your child should ride their bike to school every day; this will be recorded daily and your child will be entered into a prize raffle (only those that cycle to school every day).
On Thursday October 8th only children who ride their bike to school on day can attend our Healthy Bike Breakfast, from 8.15am in the Hall.
All year groups will attend a bike skills session with Wayne during the day.
From 2.30 - 3pm Year 3, 4, 5, and 6 pupils will have the opportunity to participate in a 'Sponsored Cycle' This will helps to raise funds for cycle equipment for the school, investing in the children's future sessions.
We would greatly appreciate your support with this event as they are learning valuable skills in cycle safety.
If you have any further questions please do not hesitate to ask me.
Thank you for your continued support.
Michelle
Reading Festival 2015
Thank you to all families who attended our Reading Festival, it was so good to see you all reading with your children!!
Children across all year groups will have the opportunity to engage with Sustrans (cycling) sessions.
These sessions are to be in school time and aim to support children with cycle safety.
Wayne Brewin our Schools and Neighbourhood Officer will be with us every Thursday afternoon working with small groups of children from F2- year 6 (balance bikes to cycling safety).
The first session is for F2 children, so if they own a bike and helmet please bring them to school Thursday 10th September 2015. A letter will be with you soon to give consent for your child/children to participate.
Thursday 17th September will be year 1
Thursday 1st October will be year 2
further dates TBC...
October 5th- 9th will be 'Bike Week', where all children coming to school on a bike will receive a stamp and placed into a raffle!! On Thursday 8th October all children will participate in cycle themed activities gaining new skills and knowledge on the importance of cycle safety.
A great opportunity for all children!!
Any parents that are interested in joining us would be great, just come and speak to Michelle.
Thanks
Michelle
Date for your diary:
Thursday 24th September 2015 from 9am
@ Belgrave St. Peter's School - Library
Macmillan Coffee Morning!
'Lets raise some funds for a good cause'!
Cake sale: after school- Playground so bring your pennies!!
Our new woodland area is completed and is an amazing space for pupils to explore.
Thank you to the Leicestershire & Rutland Wildlife Trust for creating a fun space for all our staff and pupils.
Come and join us at our
Summer Fair
Saturday 4th July 2015 from 12pm-3pm
we have on offer:
Penalty Shoot-Out, Raffle, Face-Painting, Archery,
BBQ, Refreshments, and Stalls and so much more...
Please come along and have some fun with us
We look forward to seeing you!!
Further news we had a visit from the designer yesterday for our woodland area, to discuss our design ideas. We are aiming for this space to be used by all and intend of having more seating space, a small pond, a wild flower area, an area for investigative learning (mini-beasts/habitats), and some shelter/canopies from the trees. The work is to start during the summer holidays and hopefully functional for our new autumn term. This is very exciting news and we look forward to the results.
We will also like some volunteers at some stage to maintain this area over the coming years, so if you would like to help please lets us know!
The children created an animation and entered it into a competition, If we win it will mean we will be able to transform our woodland area. Please enjoy our videos.
The making of our animation
World Book Day 2015. Children and staff Dressed up as their favourite book characters for £1 to raise money for Book Aid.
Some of our families enjoyed a great family day out at Twin lakes
Saturday March 7th 2015.
We had a Funtastic day!!
We are planning for our Summer Fayre and would like to here your ideas!!
Please contact us and share your thoughts!